17 Questions to ask any AGV Navigation Supplier
If you are developing or upgrading an automated guided vehicle (AGV) or mobile robot, your company's choice of autonomous navigation technology will be crucial. Here are 17 questions to ask any navigation supplier to ensure you make the right choice for your business. Download the checklist (PDF).
Ensuring peace of mind
When you select a supplier of navigation technology you are investing in the future of your organization. So, you will want to be sure they can deliver on their promises. How deep is their experience? Does their technology fit with your roadmap? Will they still be around in a few years? It is a good idea to start with these due diligence questions before getting too deep into the technology.
1. How deeply is your navigation technology proven in real-world applications?
If an AGV navigation company is new to the market and only has a few vehicles in commercial operation, you might consider its technology too unproven to consider. So, be sure to ask, how mature is the technology you are looking at? As an example, the first AGV driven by BlueBotics' own ANT navigation was commissioned back in 2009.
Ask how many vehicles driven by the supplier's navigation are currently in operation. This will give you a feel for the robustness and reliability of their solution, in addition to its popularity.
It is also worth examining how these vehicle numbers have grown over the years. Is the technology still increasing in popularity? And what size of customers does the company serve? If big industry players are investing in the supplier's technology, this might give you more confidence about the longevity of the technology and the company itself.
Vehicle numbers are one thing, but how many vehicle manufacturers are choosing this technology? Consider how many vehicle maker customers the company has today. This will give you an idea about the popularity of the company's specific autonomous navigation solution and about the popularity of its type of navigation in general.
2. How long has your company been in business?
While a new autonomous navigation startup might 'talk the talk' and have some great buzzword-packed marketing, be sure this is not baseless hype. And always bear in mind that the failure rate of startups is higher than more established suppliers with proven track records.
> Download the 'Questions to Ask' checklist (PDF)
Product functionality
Asking a few key questions about a navigation product's functionality now could save your business a lot of time, pain and expense going forwards.
3. What does your AGV navigation system do?
Of course, you'll want to make sure you understand how a supplier's AGV navigation system works. But don't forget to also dig into what exactly it does. In other words, what functionality does it provide and what does it not provide?

For example, BlueBotics' ANT lite+ solution provides full vehicle positioning (localization) and control. With this complete AGV navigation solution, you need only concentrate on the vehicle's hardware, reducing the burden of design. Used alongside ANT server, ANT lite+ even includes easy, effective fleet management.
4. Can I integrate your navigation into any type of vehicle?
The answer to this question could seriously impact your product roadmap. Look for a navigation supplier whose technology suits any type of vehicle you might want to develop.
What different types of vehicles do the supplier's clients have in operation today? Are these vehicles only robotic forklifts or does the supplier's technology also suit underride AGVs, also called automated guided carts (AGCs)? What about support for different kinematics (tricycle, differential, omnidirectional etc.)?
It pays to know that such types of vehicles are not only possible but already in commercial operation, in order not to limit your development options.
5. Can your AGV navigation system interface with my customers' existing infrastructure and software?
The navigation technology you select needs to work in the real world, which means integrating with a customer's existing infrastructure.

Your customers might want to manage their AGV missions via their existing warehouse management, MES or ERP software. They may want their vehicles to take elevators or prompt automatic doors to open. Check that a navigation supplier's solution can meet these needs.

How does this functionality work? How is it programmed? Make sure your team has the skills to manage this.
For example, BlueBotics ANT server fleet management software includes an API. This allows your AGVs to be easily connected to site or business management software, and to interface effectively with on-site equipment like automatic doors, elevators and palletizers.
6. At what speeds will your automation allow my AGVs to drive?
The speed of an AGV must strike a fine balance between increasing efficiency (maximizing missions per shift) and ensuring safety (ensuring optimum stopping distances).

Vehicles that are driven by most of today's navigation technologies typically reach speeds of up to 1.5 m/s (3.3 mph). There are several reasons why these vehicles cannot travel faster, such as the frequency of their positioning sensors being low.
Vehicles that are driven by ANT navigation meanwhile are capable of driving up to 2 m/s (4.5 mph). This 25% improvement offers a significant efficiency boost if your business is looking to run continual AGV shifts, or if vehicles are driving longer routes and stopping less frequently. In some situations, with certain vehicles, even faster speeds are possible, but safety must always remain the priority.
7. What environments can your technology handle?
Can the supplier's technology work outdoors? If a customer needs their AGVs to navigate between nearby buildings, for example, it might need to. Our product extension, ANT everywhere, allows AGVs to navigate accurately outdoors, with seamless transitions from indoors to out.
What about at low light levels? With lights out manufacturing becoming increasingly common. darkness could be a consideration. This could also apply if an application features outdoor routes and runs 24/7 (through the night). In addition, some vehicles such as robotic cleaning machines might be programmed to only work after hours, after staff have turned off and gone home. Low light can be an issue for technology such as vision guidance, which relies on the use of cameras. Be sure to understand the sensitivity of any navigation technology to changes in lighting conditions.
ANT uses natural navigation, which is based upon the use of laser scanners and odometry. Vehicles using this technology typically have no problems operating in low-light or dark conditions. Learn more about natural navigation.
> Download the 'Questions to Ask' checklist (PDF)
Product integration
The process of integrating a supplier's navigation technology into your vehicle can be a challenge, affecting your team's workload, your project's budget and the stress levels of everyone concerned. The questions below aim to get to the heart of their integration support offer.
8. How do we integrate your navigation system into our vehicle?
A well-defined, multi-step integration process suggests a company has multiple customers and deep, valuable experience. Does the supplier have that and can they talk you through it?

Find out what skills are needed for this integration from your side. Do you have these skills in your team? If you are missing some integration (or other vehicle development) skillsets, such as PLC programming or in-depth knowledge of AGV safety, does the navigation supplier offer additional support to help you with these?
9. What changes will we need to make to our existing vehicle to integrate your technology?
If your company already produces line following AGVs, such as those that follow magnetic tape, what is needed in order to upgrade these? For example, natural navigation may require a vehicle's traction or steering encoders to be upgraded to models with a higher resolution. While laser triangulation will require a LiDAR sensor to be installed at the top of the vehicle.
If you are automating a manual vehicle, this may not even support automatization. Ask the navigation supplier to advise you on this. Honest explanations about what will work, and what won't, should be the basis for a long-term, successful relationship built on trust.
10. How will you support us through the integration process?
As you progress through the integration, how closely will your team be supported? The last thing you need is to be surprised by a lack of in-depth knowledge or help during this crucial process. So, take the time now to understand exactly how your navigation supplier will help you and the services they will provide (or not) to help keep your project on track.
At BlueBotics, we support our customers closely through the entire development process – from initial pre-contract discussions and project kick-off meeting to the integration of ANT into your vehicle, right through to its commercial launch. As part of our initial Integration Package, you receive on-site support as standard, both during the integration of ANT into your vehicle and again at your customer's site the first time this vehicle is commissioned.
> Download the 'Questions to Ask' checklist (PDF)
Commissioning vehicles
Quick and efficient commissioning of your AGVs will delight customers, protect your profit margins (as long installations are expensive installations), and enhance your company's reputation. So, make sure you understand how your choice of navigation system will impact this.
11. How difficult is it to commission vehicles using your navigation technology?
Ask the navigation supplier to talk you through their recommended commissioning workflow. Find out how long each step typically takes. Ask what issues you should be looking out for. What commissioning training do they offer? Is that training included in the price of the system?
>Related: 7 Tips to Ensure AGV Commissioning Success
12. How long does it typically take to commission a single vehicle?
Whether commissioning takes just a few days or several weeks will have serious impact on your bottom line. Take the time to understand commissioning overheads and build these into the cost of your vehicle (or maintenance programs). Ask the navigation supplier for some real-world examples for a clearer picture of what's involved.
13. How long does it typically take to commission an entire AGV fleet?
Are there traffic rules and behaviors to configure or are these automatic? What about scaling up an existing customer's operation into a larger fleet by adding new vehicles – how does that work? Does fleet commissioning include training the end customer on the fleet management software and who will handle that, the supplier or you?
Selecting a navigation system with smooth fleet installation and expansion processes will help you grow not only your client list but, crucially, the number of vehicles you can successfully commission at each site.
14. How can you guarantee my customer installations will work?
Ideally, you want to hear: "We support you, whatever it takes". But also ask for relevant case studies to give you additional peace of mind that the supplier's tech is a good fit for your vehicle and the markets you are targeting.
> Download the 'Questions to Ask' checklist (PDF)
Support
Since your AGV's positioning and control system is so crucial to its effective operation – and integrations and commissioning can potentially be so complicated – you need to be sure that your navigation supplier can, and will, support you every step of the way.
15. What support is included?
Ask what the default support offer includes and what costs extra. How is the supplier's support team organized and what are their typical response times (in your time zone)? What reference and learning materials are available to support your new employees? How and when will your staff be trained? Is this training included by default? What about refresher courses?
16. How large is your support team?
Will you be limited to when the company's one support manager is available or does the AGV navigation supplier have a team of expert engineers available to answer your questions and support you on-site when needed?
17. Is commercial support available?
You need to maximize the impact of your product launch and marketing. Ideally, your navigation supplier will be able to help.
Do they support customers at a commercial level? For example, are they able to forward you any relevant end-user sales leads (suppliers like BlueBotics receive plenty of these)?

Can they support your marketing efforts with targeted collaborations? Will they join forces with you at trade shows or for virtual events like webinars?
Don't be afraid to ask these questions. After all, the more vehicles you sell, the more AGV navigation systems the supplier sells!
Curious how we answer these questions at BlueBotics?
Get in touch below and our team will be happy to chat. You can also download a printable PDF version of this question list for quick reference.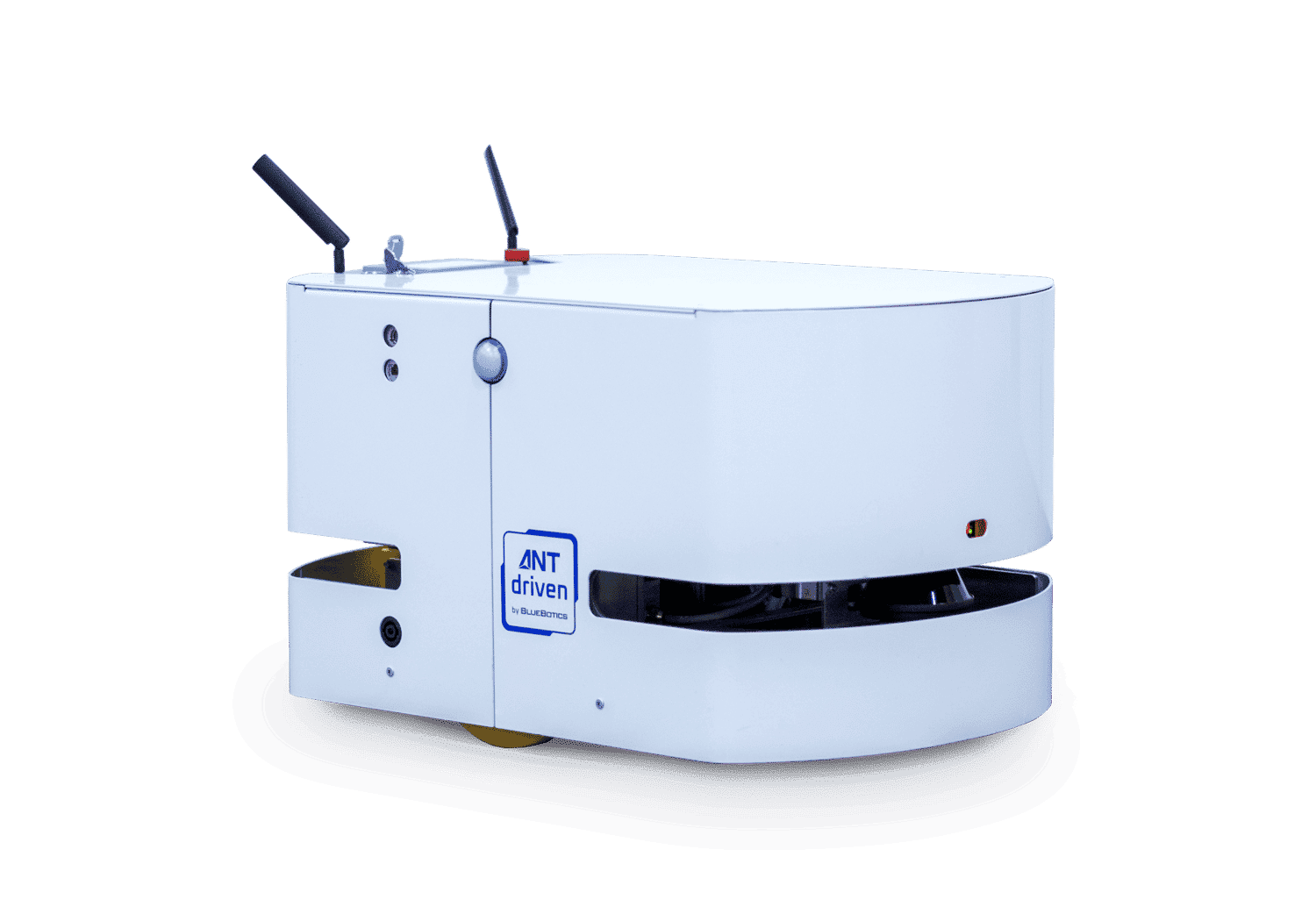 Take the first step to automating your vehicle.
Schedule a call with our expert team today.