National Forklift Safety Day: Focusing on automated forklift systems
To celebrate National Forklift Safety Day 2021, we're focusing on automated forklift systems as a way to reduce lift truck related injuries and fatalities. In this article we'll cover why driverless forklifts are safer than manual forklifts, and break down predictions for their adoption.
Automated forklifts: a safer system
Why focus on driverless forklifts for Forklift Safety Day? It's simple: automated forklift systems are safer than manual forklifts.
Forklifts (and pallet transporters and pallet jacks) are large and potentially dangerous vehicles. Manual forklift accidents account for 10% of injuries in warehousing and factories. And many of these incidents are avoidable: in the US, the Occupational Safety & Health Administration (OSHA) estimates that about 70% of forklift accidents could be prevented, especially through improved driver training.
Over a manual forklift's typical operational lifespan, there is a 90% chance that it will be involved in an incident causing serious injury or death. This means that every forklift in the United States has a 10% chance of being involved in a serious incident this year. In Germany, over 30,000 work accidents involving forklifts and pallet trucks were reported in 2016. The majority of these incidents were due to user error.
By contrast, with more than 20 years in business and over 2,500 vehicles in operation, no automated vehicle driven by BlueBotics ANT technology has ever been involved in a serious or fatal incident. That's in part because automated forklifts (and all ANT driven automated guided vehicles) behave as programmed, every time. And because the person most often injured in a forklift incident is the driver, by definition driverless forklifts are less likely to be linked to fatalities.
How many automated forklift systems are there?
In 2019, 5,000 new automated forklifts were deployed in the United States (that number encompasses all driverless forklifts, not just those driven by BlueBotics navigation technology).
However, that's just 0.3% of the one million forklifts and lift trucks of all types which were deployed in that year.
But that number is predicted to grow dramatically.
The predicted growth of automated forklift systems
Automated forklift system sales are predicted to grow by as much as 64.5% every year until 2028, according to market research firm Interact Analysis. This is a massive increase on the previous predicted growth rate of 20-25%.
In fact, as soon as 2023, as much as 5% of the entire United States' forklift fleet is predicted to be automated.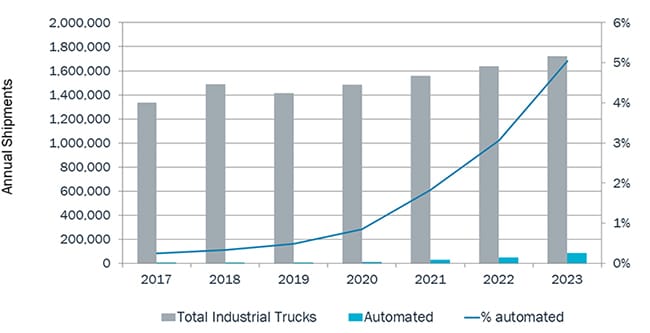 4 factors driving the growth of automated forklift systems
A combination of factors is driving the rapid growth of automated forklift systems, including:
A tight labor market. It remains difficult to hire and retain skilled material handling workers. Automated forklifts essentially bundle together equipment with the labor needed to operate it.
Continually increasing demand for ecommerce. One effect of COVID-19 was increased consumer adoption and acceptance of ecommerce. Even as bricks-and-mortar stores reopen, demand for ecommerce remains at historically high levels.
Proven benefits. As more and more companies adopt automated systems, the results speak for themselves. For example, GECOM Corporation's five Nipper pallet trucks allowed them to reduce material handling headcount costs by 73%, achieving ROI on the project within two years.
Better awareness of soft savings. As well as bundling labor and hardware, automated forklift systems offer "soft savings" that are not often factored into ROI calculations. These savings include reduced stock damage, and even less wear and tear on the facility.
What's next? Building an automated forklift fleet step by step
Rather than diving into a full scale automation project, more and more companies are replacing manual forklifts with automated forklifts as manual machines are retired.
This step by step upgrade path has a number of advantages, the most obvious being the reduced capital outlay. Also consider the impact on staff morale: by slowly introducing automated technologies, staff resistance can be more effectively managed with occasional vehicle replacements than replacing an entire fleet at once
Because BlueBotics' flexible ANT technology does not require permanent changes to the environment, it suits the "scale up" adoption of automation technology.
If mobile automation is something your company is considering, our ebook, Vehicle Automation Answers, covers the top considerations for a successful automation project.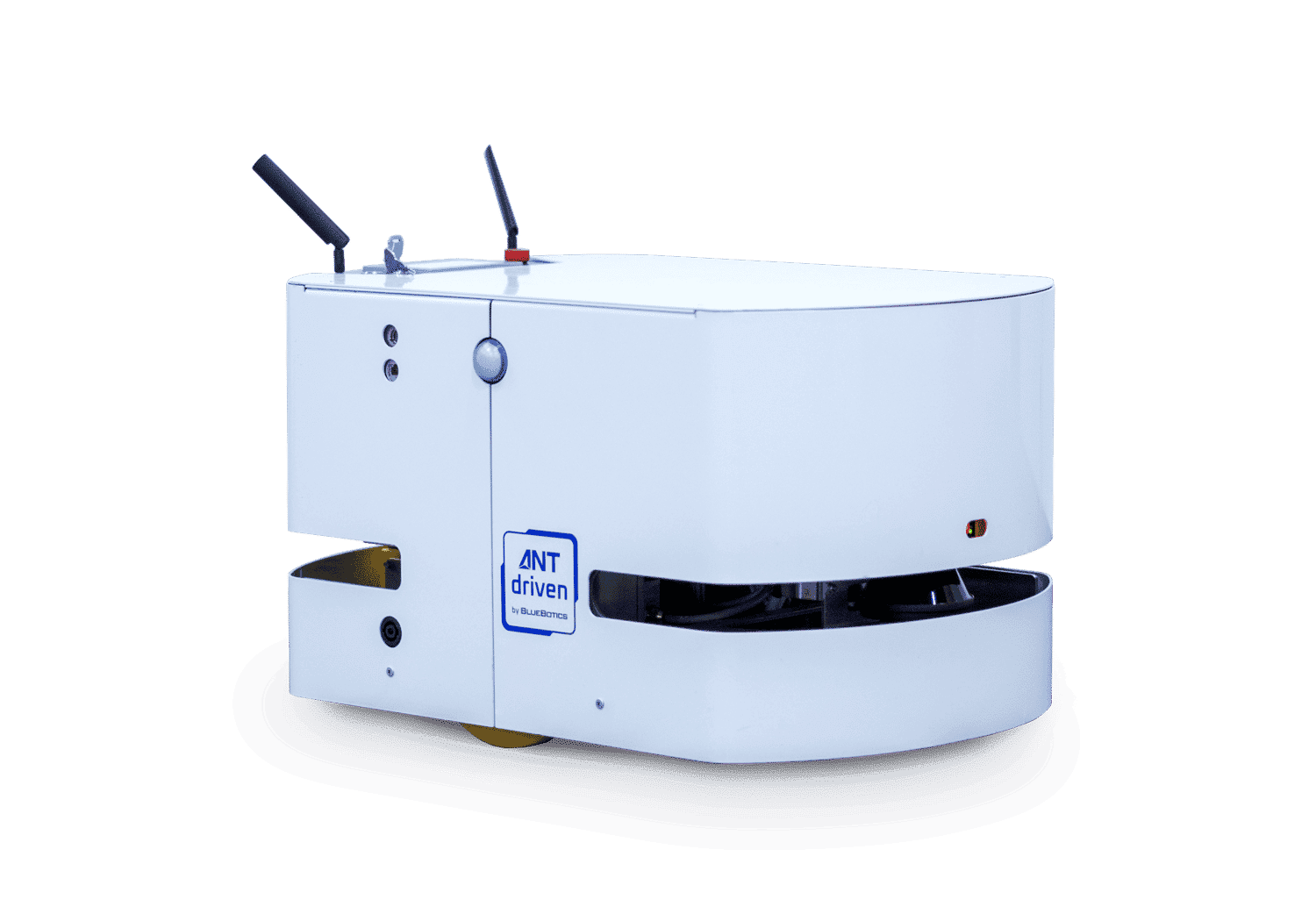 Take the first step to automating your vehicle.
Schedule a call with our expert team today.