New mini™ UVC disinfection robot scales up the fight against viruses
The new mini™ UVC disinfection robot, jointly developed by BlueBotics and Engmotion, is a robust, industry-proven solution that disinfects as programmed every time.
Based on proven mobile robot and UVC lamp technologies the mini™ UVC, jointly developed by BlueBotics and Engmotion, can be used alone or in a connected fleet to autonomously disinfect hospitals and other public buildings such as airports, hotels, and commercial/industrial sites. The robot combines the reliability and fleet management capabilities of BlueBotics' mobile robot and navigation technologies with Engmotion's powerful Steril-ONE UVC disinfection lamp.
"As COVID-19 forces facility managers to improve the depth and frequency of their cleaning operations at a time when fewer staff may be available, this robot provides a new and efficient way to achieve these goals," Dr Nicola Tomatis, the CEO of BlueBotics, said. "Using our industry-proven ANT navigation software it is simple to generate a map, set disinfection points and your autonomous robot will do the rest. The robot easily and efficiently disinfects any type of indoor public space, from hotel rooms to hospitals, airports and more."
With businesses around the world taking tentative steps towards reopening, attention has turned to how public facilities such as hospitals, airports and hotels can ensure they remain safe for visitors. The public are increasingly seeking reassurances of venue safety before visiting or passing through, and at the core of organizations' responses is enhanced disinfecting policies and practices.
With the pressure that the COVID-19 pandemic has put on hospitals and nursing homes, there is an increased focus on ensuring they are a safe location for patients, medical staff, and visitors. In a study last year published in the American Journal of Infection Control, examined the effects of an ultraviolet (UV) light technology designed to defeat superbugs in hospitals and found that it eliminated almost 98 per cent of pathogens. These infections cost billions of dollars, and some estimates state that they cause almost 100,000 deaths each year in the United States alone.
"When it comes to disinfection technology, UVC light is proven to destroy up to 99% per cent of viruses on surfaces, including the SARS family of viruses, and vegetative bacteria," said Enrico Merlani, the CEO of Engmotion. "However, static lamps require trained staff to place and move them. An autonomous mobile robot that can move and position itself at every required location really is the optimal solution. The robot allows facility managers to do more with less, systematically disinfecting more areas, more deeply and more often using either one or several connected robots, and all without the need for additional human resources."
Safe and reliable disinfection
BlueBotics, working in combination with Engmotion, developed the mini™ UVC robot to enable operations teams to disinfect sites safely and autonomously. It features safety laser scanners at the front and rear of the robot, which allow it to detect obstacles and people when in transit, and a high-sensitivity movement sensor on top, which automatically shuts down UVC operations if a human is detected.
If an operator needs to disinfect an area more quickly, disinfect a larger site, or clean multiple areas at the same time, the robot's ANT server software makes it easy to create a full fleet of connected mini™ UVC robots. Other ANT driven vehicles can also be included in the fleet, such as Cleanfix's floor cleaning robots or other logistics vehicles. Additionally, ANT server's built-in simulator allows an operator to verify a project before activation.
Deployed thousands of times in the field, BlueBotics' ANT technology and Engmotion's Steril-ONE UVC disinfection lamp ensure the system disinfects exactly as planned, time and time again.
The BlueBotics mini™ UVC is quick to set up and easy to use: just drive the robot with a joystick manually around the site to generate a map, create routes and set disinfection points using the system's ANT lab software, and the BlueBotics mini™ UVC — or fleet of mini™ UVCs — does the rest. The solution can be operated 100 per cent autonomously, semi-autonomously (if staff need to open doors), or manually via a wired controller (personal protective equipment required).
Scientists have known for over a century about UV's ability to disinfect. And for many years, UVC lamps have been used for sterilisation in medical settings, food production and a number of other places. The properties of UV rays are also known to be effective at killing viral particles, including other coronaviruses like MERS.
Pilot project
The BlueBotics mini™ UVC was recently deployed at an international airport in Italy as part of a pilot project carried out by Software Design (A SITA Company).
"In this COVID-19 era, airport operators need to keep their sites cleaner, with more disinfection cycles every day," explained Marco Pici, who is Head of Business Development & Business Transformation at Software Design (a SITA Company). "The BlueBotics mini™ UVC can be a great help. It can be used to run more cycles with the same resources, helping sites to do more with less. With the ANT server an operator can easily manage and operate a number of different robot types, like our reception robot, and use these as they see fit, or even have them triggered by the airport's operation system."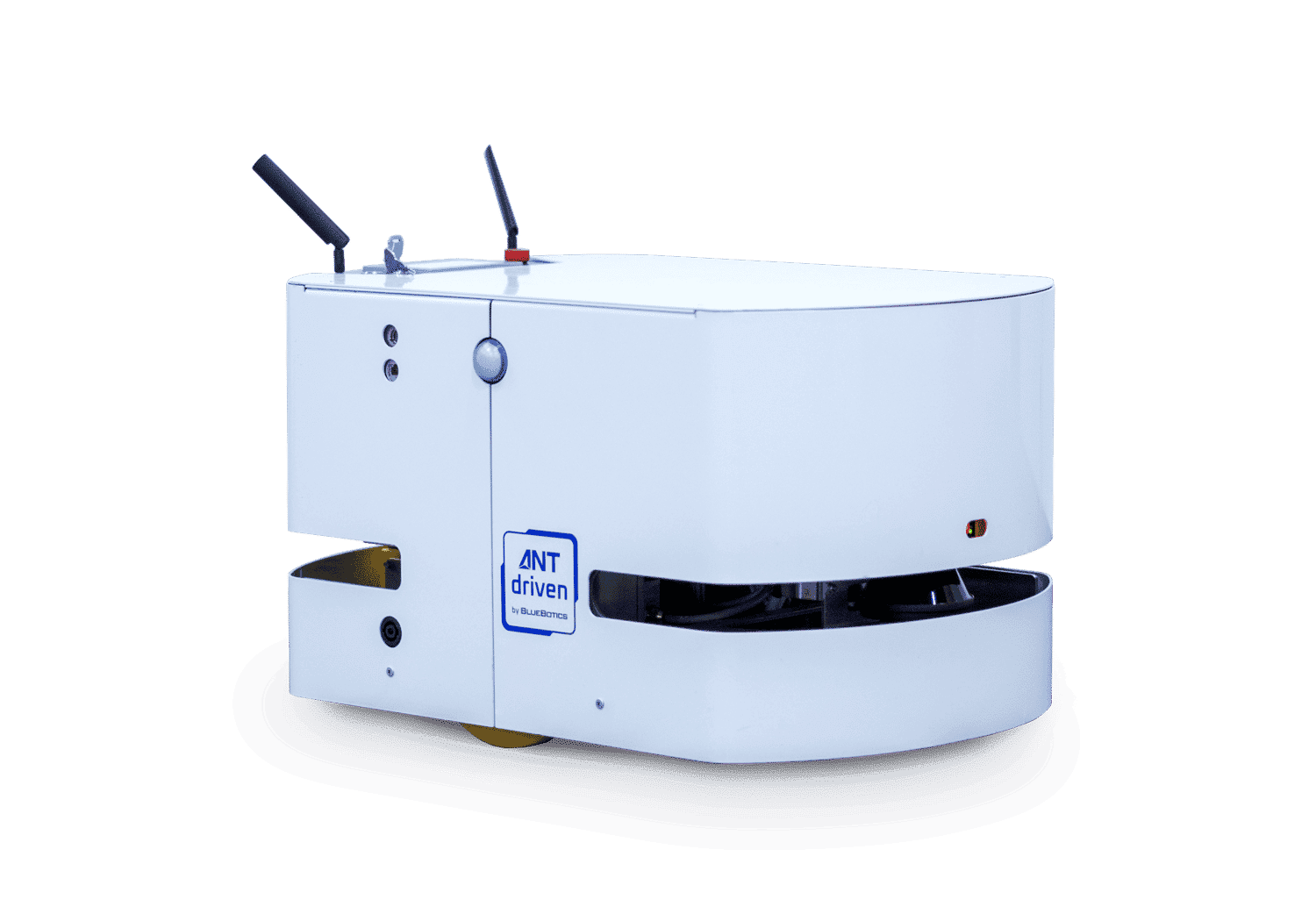 Take the first step to automating your vehicle.
Schedule a call with our expert team today.