Karter Launches ANT Driven Autonomous Mobile Robots With Super-Fast Charging
Karter (a subsidiary of Weighpack) has released three new ANT driven autonomous mobile robots (AMR) targeted at a wide range of applications – from intralogistics and manufacturing to agriculture and the transportation of heavy products and components.
Capable of operating for eight hours after just ten minutes of charging, Karter AMRs are highly agile and simple to integrate into a site's existing operations.
Patrick van Tiel, Commercial Manager for AMRs at Karter, said: "These Karters are the future of material handling. They reduce a company's reliance on human resources to carry out repetitive, labor-intensive tasks, and they can help lower costs and increase safety, ensuring tasks are carried out predictably and reliably every time. 'Ingenuity through simplicity' is our claim because that is what Karters deliver!"
The Karter AMRs are the first result of the company's close technical partnership with BlueBotics. Since these vehicles are driven by BlueBotics' ANT natural feature navigation, they do not require any permanent changes to be made to a site's infrastructure in order to operate effectively (such as laying magnetic tape or installing reflective targets).
The Karter AMRs include:
The Karter Kompakt: An automated pallet truck capable of carrying payloads of up to 1,500 kg.
The Karter Lyft: An autonomous low-lift (500 mm) forklift capable of transporting pallets weighing up to 1,000 kg.
The Karter Mono: A highly efficient AMR workhorse capable of transporting a wide range of payloads, such as roller cages, boxes, etc., weighing up to 1,500 kg.
Karter AMRs are also fully interoperable. They can be used alone or in a full connected AMR fleet – even with other brand ANT driven vehicles – using BlueBotics ANT server software. ANT server's API can also be used to connect a Karter installation to a site's existing WMS/MES/ERP software and to seamlessly interface with equipment such as automatic doors and elevators.
Dr. Nicola Tomatis, CEO of BlueBotics, added, "These Karters bring a new level of flexibility and agility to the AMR market. They are highly compact. They can recharge in no time. And thanks to the ANT navigation technology inside them they are accurate, reliable, quick to commission, and immediately fleet-ready."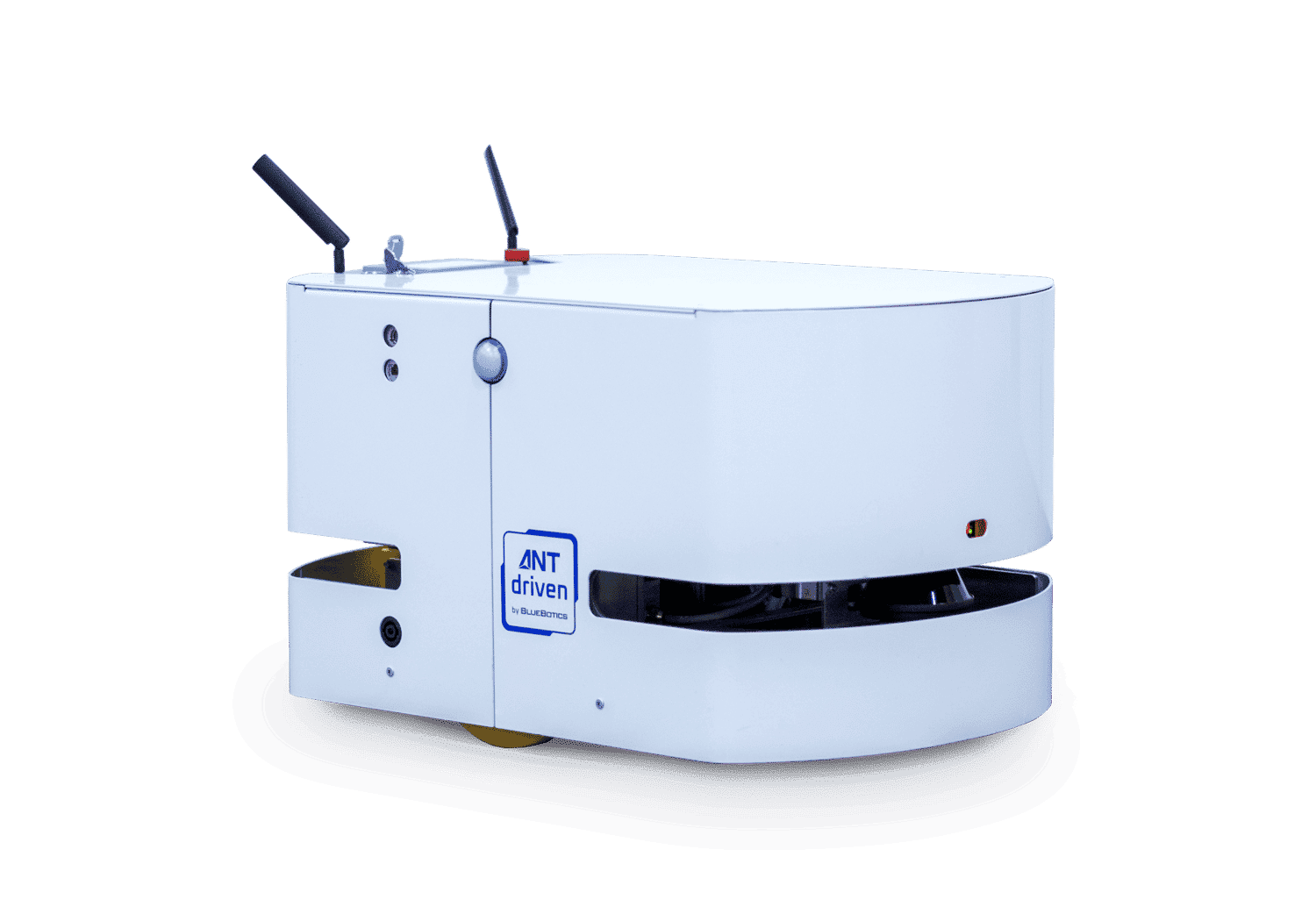 Take the first step to automating your vehicle.
Schedule a call with our expert team today.