BlueBotics Partners with MasterMover for Best-in-Class AGV Navigation
Vehicle automation leader BlueBotics has partnered with MasterMover, the world's leading manufacturer of electric tug and tow solutions, to provide best-in-class ANT navigation technologies for MasterMover's range of Automated Guided Vehicles.
Known for its broad portfolio of pedestrian operated electric tugs and electric tows, used across Industrial Manufacturing, Logistics and Retail, MasterMover also offers a range of advanced solutions, spanning remote control operation, line follow navigation and fully autonomous solutions.
MasterMover AGV products now include BlueBotics' ANT natural navigation technology as standard, ensuring customers benefit from the advanced features and functionality available from the vehicle navigation market leader.
"MasterMover has twenty-five -years' experience of designing, manufacturing and delivering load moving solutions that are synonymous with reliability, quality and performance," commented James Jones, Partner and Director at MasterMover. "We are combining this expertise with world-class technology partners to deliver advanced solutions. These are increasingly being demanded by our customers who are focused on maximising safety and efficiency within their operations."
BlueBotics is the global reference in natural feature navigation. For over 20 years, the Swiss company has helped companies meet the challenge of vehicle automation, and today there are more than 4,000 'ANT driven' AGVs, automated forklifts and AMRs in operation around the world.
"At BlueBotics our goal is to work with market-leading vehicle producers who have the expertise and experience needed to fully meet their customers' AGV needs," said Dr. Nicola Tomatis, CEO of BlueBotics. "Partnering with MasterMover is a great example of this. We have been continually impressed with the professionalism of both the company's solutions and its team, and we look forward to enjoying much success together."
MasterMover AGV solutions offer Industrial Manufacturing organisations an effective way to automate a range of load moving processes, delivering return-on-investment and driving operational efficiency.
Autonomous solutions are available from MasterMover with the capacity to move up to 30,000kg, meaning the company is equipped to take on a wide range of load movement challenges with advanced solutions.
MasterMover is combining a strong track record of success in building powerful and reliable load moving products, with best-in-class technologies from market leaders such as BlueBotics. The company also works with safety technology specialists SICK for its AGV solutions.
"Partnering with BlueBotics was a natural choice, with their ANT navigation technology leading the way. The advanced capabilities of BlueBotics' solutions, as well as their focus on innovation, mean they are the ideal navigation partner for MasterMover," added Jones. "We have worked closely with the BlueBotics team on a number of projects, and the relationship between the two organisations will only go from strength to strength".
Find out more about MasterMover's AGV solutions.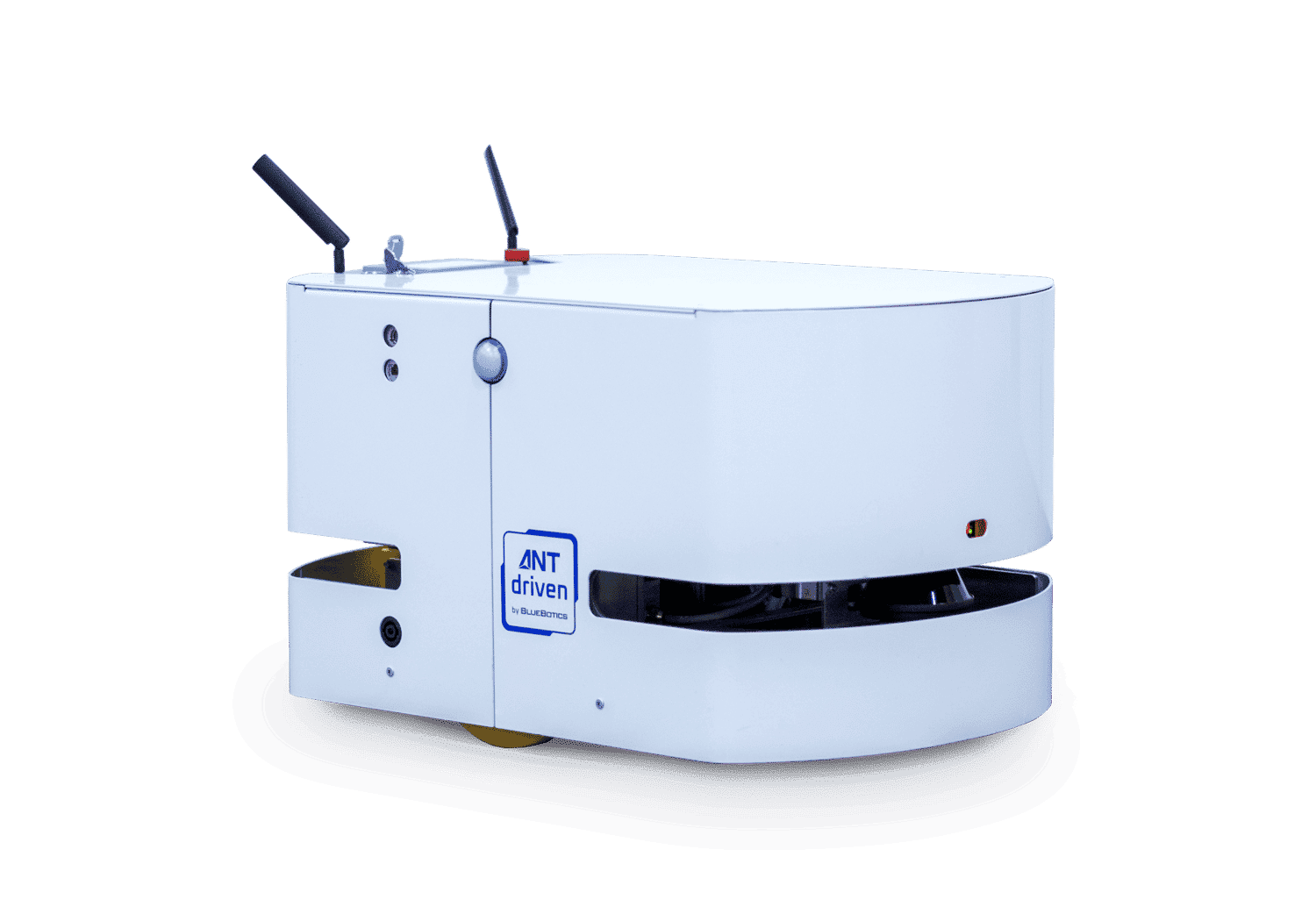 Take the first step to automating your vehicle.
Schedule a call with our expert team today.