Fighting HAIs & COVID-19 with healthcare automation solutions
The COVID-19 pandemic has highlighted the issue of healthcare acquired infections (HAIs). HAIs have never before been so visible, as the public focuses on COVID-19's spreads through aged care facilities and hospitals around the world.
Breaking the chain with automatic disinfection
Environmental hygiene is a key part of infection prevention. New research has demonstrated that the virus that causes COVID-19 can survive on common surfaces for up to 28 days. Disinfecting surfaces is therefore essential to break the chain of infection.
Cleaning large public spaces such as hospitals, government buildings, shopping malls or airports is time consuming, and currently involves a mixed approach combining manual processes and ride-on machines.
The mini™ UVC by BlueBotics is a mobile robot which can disinfect large spaces on time, every time.
Unlike manually operated disinfecting machines or medical sterilizers such as UVC wands, the mini™ UVC is autonomous, allowing it to disinfect public spaces after hours. Personal protective equipment (PPE) is required when working around UVC light, but because the mini™ UVC runs autonomously, it can work independently and automatically, keeping staff safe from ultraviolet light.
The science of Ultraviolet C light: How UVC can destroy the COVID-19 virus
Ultraviolet C (UVC) has been used to disinfect surfaces since it was discovered in 1878, and is commonly used to purify drinking water in Europe and the United States.
Ultraviolet C light disrupts the DNA of microorganisms, bacteria and viruses: inactivating or destroying them. Exposure to UVC light at wavelengths of 253.7 nm destroys up to 99.99% of viruses and bacteria.*
Automating material handling in healthcare to reduce infection risk
Modern hospitals and healthcare clinics move a huge amount of material every day. From bed linen to laundry, medication to meals, material is always on the move.
A hospital with 200 beds transports an average of six tons of material over a total distance of 60 km every day. An 800-bed hospital might move 27 tons of material over 800 km.
Traditionally much of this load was carried by nurses and other healthcare workers: people whose time would be better spent serving patients.
Since 2012, Italy-based manufacturer Oppent has been installing healthcare automation solutions.
Oppent's EVOcart™ range of mobile robots has been developed for hospitals and medical centers. As well as taking on the task of carrying food, laundry and waste, equipment, medication and more, these mobile robots reduce the potential exposure between staff and patients, and support cohorting of infected persons. And because they work as programmed, every time, EVOcarts reduce the potential for error.
Healthcare automation solutions supporting a pharmaceutical company
Antibiotic stewardship is a key pillar of HAI prevention. Getting the right medication, at the right dose, to the right patient is essential for preventing the growth of antibiotic resistance.
For one pharmaceutical company, this stewardship starts at the point of manufacture.
A small fleet of Stöcklin EAGLE-ANT AGVs transport materials around the facility, including quality control samples.
Orders can be delivered automatically and are managed by a central computer, via the ANT server platform, which assigns the orders to the next available vehicles for the most efficient handling.
While people can become tired or distracted, the fleet of automated guided vehicles performs as programmed every time, drastically reducing the potential for error at the point of manufacture.
What's next?
Automated guided vehicles are sometimes thought of as being used exclusively in the manufacturing and material handling space. But as we've seen they have immense potential for the healthcare space. By reducing contact with between infected persons, breaking the chain of transmission with automated disinfection, and removing human error, automation has the potential to be a key pillar in infection prevention.
Discover our Autonomous Navigation Technology and explore our cleanroom-ready mini™ mobile robot platform.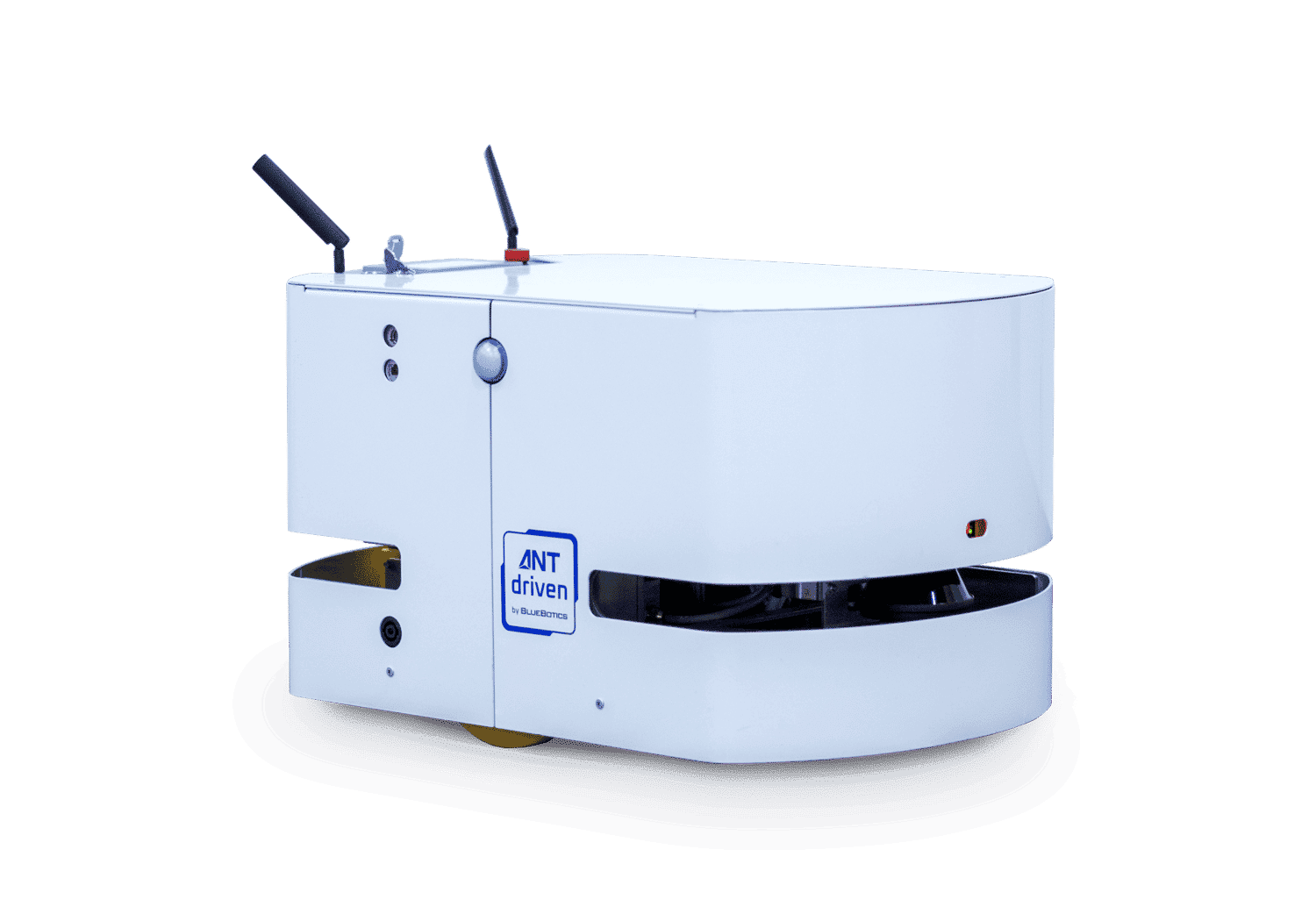 Take the first step to automating your vehicle.
Schedule a call with our expert team today.