BlueBotics Highlights Path to Successful AGV Implementation at ProMATDX
Global autonomous navigation leader BlueBotics is heading to this year's ProMATDX digital event to educate both developers and potential buyers of automated vehicles and mobile robots on the impact their navigation technology choices can have – on vehicle robustness, accuracy, speed of installation and fleet use.
As part of the ProMatDX seminar program, BlueBotics will present an informative talk on the different types of navigation technology available, along with full, in-depth product demos of BlueBotics' ANT technology, featuring a full fleet of ANT driven AGVs and mobile robots in operation.
BlueBotics' autonomous navigation experts will also be on hand via the company's showcase page to answer questions, organize meetings, and discuss visitor's specific AGV development or investment needs.
ANT: simple, accurate & quick to install
ANT navigation technology is a precise, robust and flexible solution that enables AGVs, automated forklifts and mobile robots to safely navigate around their environments. Proven at more than 1,000 customer sites around the world, this technology enables vehicles to be commissioned in days, not weeks, without permanent changes to a site's infrastructure. Furthermore, vehicle routes can be quickly and easily updated using ANT lab software to meet new process needs.
With the BlueBotics ANT server platform, numerous diverse ANT driven vehicles can be combined in a scalable fleet, no matter what the AGV make or model, making ANT a flexible, future-proof solution capable of meeting a business' evolving needs.
Dr. Nicola Tomatis, the CEO of BlueBotics, said, "ANT technology is well proven across a wide range of applications, with over 2,500+ ANT driven vehicles now in operation worldwide, which have travelled over 10 million kilometers (6.2 million miles) in total. Alongside this flexible yet robust and accurate technology, we provide expert integration and end user installation support to ensure both vehicle makers and AGV operators are set-up for success."
With a responsive and proactive team, BlueBotics has a reputation for successful AGV implementation and is one of the world's leading autonomous navigation experts. Whether you are designing your own automated vehicle or looking to invest in AGV or mobile robot technology, a conversation with BlueBotics' team could save your business time, money and pain.
Join BlueBotics at 2021 ProMatDX, to learn more.
BlueBotics show schedule
Paths to Success – Comparing Autonomous Navigation Technologies will be presented on Monday, April 12th at 9:30 AM – 10:00 AM Central Time (US), and Friday, April 16th 9:30 AM – 10:00 AM Central Time. Each session will be followed by a live Q&A.
Live ANT demos will take place on Tuesday, April 13th at 1:30 PM – 1:45 PM Central Time, Wednesday, April 14th at 10:45 AM – 11:00 AM Central Time, and Thursday, April 15th at 2:45 PM – 3:00 PM Central Time. Again, each session will be followed by a live Q&A.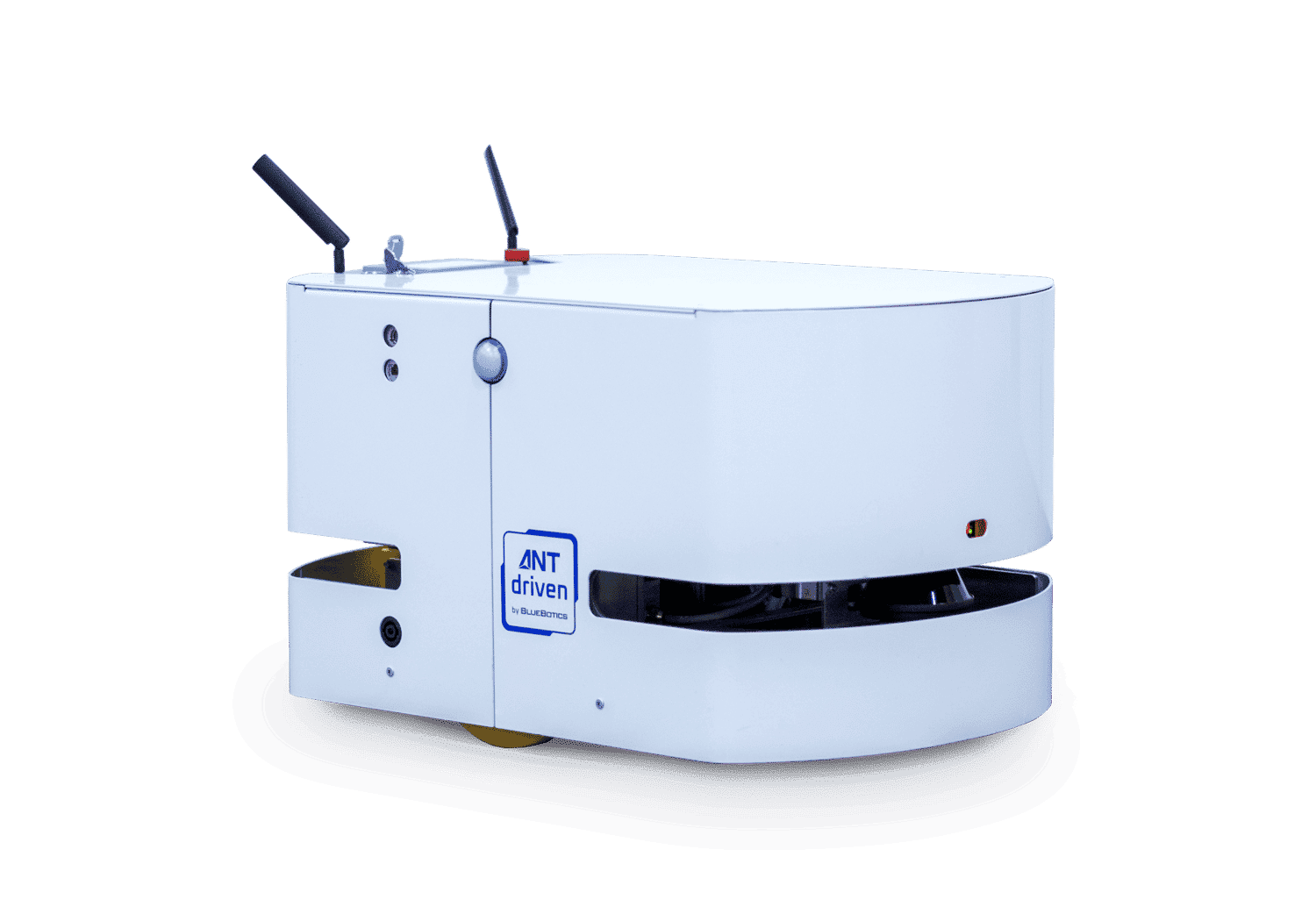 Take the first step to automating your vehicle.
Schedule a call with our expert team today.